Underneath Waterloo Bridge, where its arches meet the south bank of the Thames, is an outdoor market of second-hand books. It is, like most collections of second-hand books, a glorious mélange. John Grisham thrillers are there alongside tatty copies of Cicero's letters. Barbara Cartland sits with Samuel Taylor Coleridge. There is, as they say, something for everyone.
And, a couple of weekends ago, there was something for me: a first edition of The Ladybird Book of Motor Cars. It was missing its original dustcover, and its spine was worn back to the binding, but it only cost three quid, so I picked it up. It sure beats yet another beaker full of insipid coffee.
I describe this book as a 'first edition' not to make it sound grand, but because that's what it is. Dated 1960, it is the first entry in the Ladybird Recognition Series to deal solely with cars, after books on aircraft and trains. The Ladybird Book of Motor Cars was then updated several times before the final edition in 1972.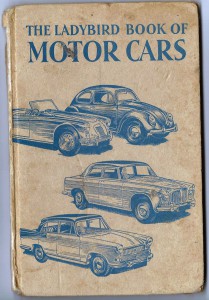 Flicking through my copy, it's a car-nerds' delight. The layout of the book is incredibly simple, as it was written for children, but that is part of its charm. 72 cars from the early-Sixties are shown in clear colour pictures by David Carey, with short descriptions beside each of them. The cars are arranged, three to a page, in rough order of size.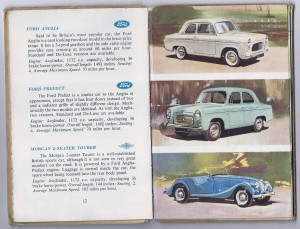 And so the honour of being first goes to the diminutive Heinkel Kabine Type 154/153. How diminutive? According to the book, this car is only 100-and-a-half inches long. It's one of those three-wheelers that is little more than a glass canopy above the driver's head and a sewing machine engine behind their back. Sorry, a 'motor-cycle type of engine'. Swish.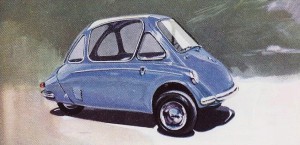 What follows is a catalogue not just of oddities, but also of ordinary family motors. A few pages in is the Ford Anglia, depicted in an utilitarian grey colour, and 'said to be Britain's most popular car'. Later comes what is 'probably the best know British family saloon', the Austin A.55 Cambridge. That's also shown in grey, although it does come with a ruby-red roof.
No doubt, most of Ladybird's young readership would have rushed straight to the back pages. That's where the real dream machines are, all polished chrome and multiple cylinders. It's there that you'll find, for instance, the Rolls-Royce Silver Cloud. The potted description starts: 'Beyond all doubt the "Best Car in the World", the Rolls-Royce is a symbol on wealth and elegance.'
The very last page is the biggest of the big: three American cars, natch, including a Cadillac. Alongside all of the sensible British saloons and slinky European sports cars that have come previously, they look like aliens. Just marvel at the headlights of the Buick Electra 225, which curve like a pair of horns from the front grille before joining an elongated diagonal line that stretches down the side of the car to… where? That rear-end has to be jet-powered.
Imaginations must have run wild. Passions stoked. Some guy called Jeremy Clarkson describes the 1963 edition of the Ladybird Book of Motor Cars as 'the highlight of my childhood'. And for him, unsurprisingly, the later pages were where it was at:
'Just endless boring grey shapes, until you get to page 40, where you find the Maserati 3500 GT. Now this for me, when I was little, was like kind of Jordan and Cameron Diaz. In a bath together. With a Lightning jet fighter. And lots of jelly.'
It does make you wonder what the equivalent is for kids nowadays. Not the equivalent of the Maserati 3500 GT, but the equivalent of the Ladybird Book of Motor Cars. So far as I can tell, Ladybird no longer publishes any books to do with cars, not even reprints in their vintage range. The only option is to find an old copy in a second-hand book market under a bridge.
Or there's always the Internet, of course. But something is probably lost in the modernisation. Just sometimes, back the Sixties, children may have paused before they reached the sports cars to read about the Peugeot 403 Saloon and its seating which 'can be folded in such a way as to form a double bed'. But will any of their descendants Google a Peugeot 407 nowadays? Surely, that ladybird has flown.