You currently have javascript disabled. This site requires javascript to be enabled. Some functions of the site may not be useable or the site may not look correct until you enable javascript. You can enable javascript by following this tutorial. Once javascript is enabled, this message will be removed.
6 Steps to Electric Light Commercial Vehicle [e-LCV] success
Written by LeasePlan UK | Posted on 11.12.2017
The rise of electric passenger cars is well documented, but what about EVs for business use? The latest in LeasePlan's series of sustainability white papers takes a deep dive into the impact of the shift to electric for light commercial vehicles (LCVs).
Benefits to business 
The paper outlines the operational and business advantages for businesses integrating electric light commercial vehicles (e-LCVs) to their fleets, as well as how fleet managers can achieve this in practice, including the 6 steps to e-LCV success.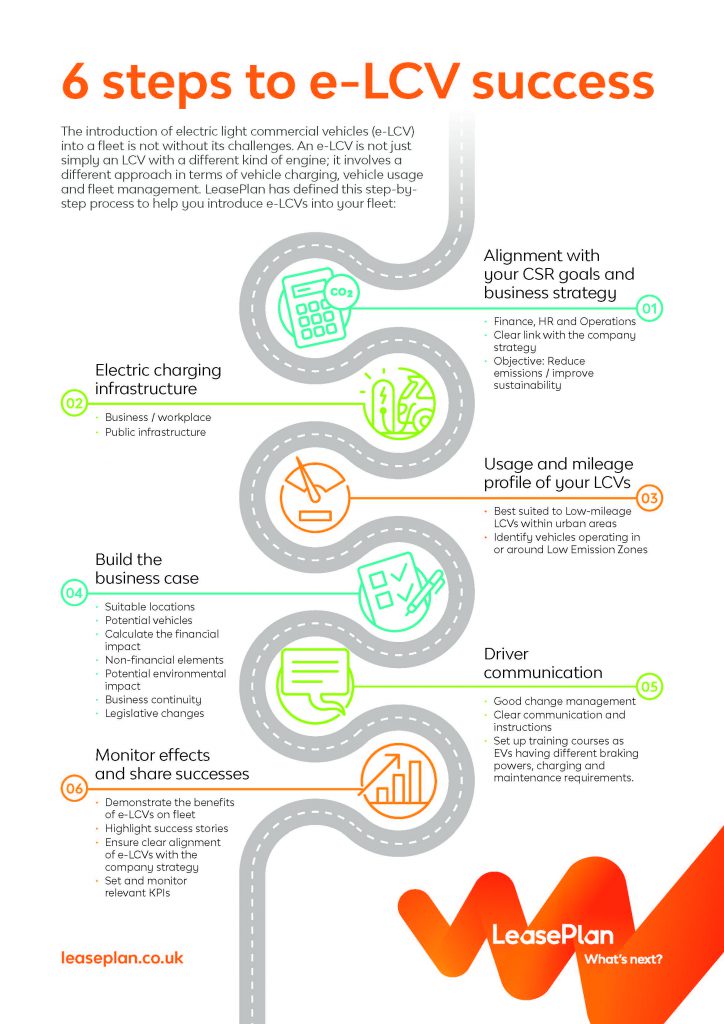 Leading the charge 
As a founding partner of the EV100, LeasePlan is committed to educating and facilitating customers as they make the switch to low-emission vehicles. Today's white paper follows the release of Sustainable Fleet Management, which provides practical guidance for businesses on safeguarding their mobility while achieving sustainability objectives.
Find out more 
Download the whitepaper 'Electric Light Commercial Vehicles ' and discover what's next for commercial vehicle operators.  
---
YOU MAY ALSO BE INTERESTED IN…
You may also be interested in...
You may also be interested in...
This year's CV show is taking place at the NEC in Birmingham between the 26th and 28th April, so why not book an appointment to meet with one of our...