Last year, we brought you data on the results of MOTs conducted between April 2014 and March 2015. They painted a sobering picture for commercial fleets: 49% of all heavier vans (those weighing between 3,000 and 3,500kg) failed their initial MOT – significantly higher than the failure rate among smaller vans, cars and other private passenger vehicles.
The Driver & Vehicle Standards Agency have recently released updated results for the year to March 2016 – here's how the picture has changed.
Failure rates
The good news is that MOT failure rates have fallen across the board, albeit only slightly. For heavier vans, it's down from 49.0% to 46.8% – as our graph below shows.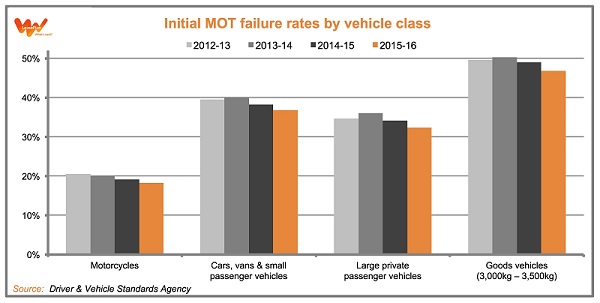 That still means heavier vans are more likely to fail than other vehicles, though. The failure rate for cars, vans and small passenger vehicles is down from 38.3% in 2014-15 to 36.8% in 2015-16, while for large private passenger vehicles it's down from 34.2% to 32.3%. Motorcycles are least likely to fail their MOTs, with a failure rate of 18.2%.
Most common defects
Our second chart, below, ranks the most common reasons for a large van to fail its MOT. As last year, problems with the vehicle's lights are the most often the cause, followed by faults in the brakes and suspension.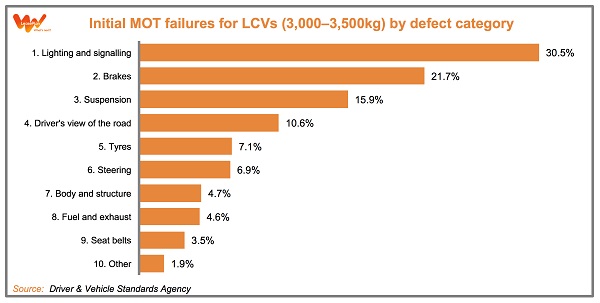 Top 10 MOT failures for LCVs
Lighting and Signalling

Brakes

Suspension

Driver's View of the Road

Tyres

Steering

Body & Structure

Fuel & Exhaust

Seat Belts

Other
Worryingly, although the overall failure rate is lower, the top four defects on that list (lights, brakes, suspension and the driver's view) all cropped up more often in 2015-16 than they had the year before.
Preventative measures
Fleet managers looking to ensure their vehicles pass their MOTs – and, most importantly, to keep their drivers safe – should encourage drivers to make daily checks of vehicles, paying close attention to the areas highlighted above.
---
YOU MAY  ALSO BE INTERESTED IN..
LeasePlan Daily Vehicle Check app – designed for business critical vehicles that enables drivers to conduct a daily vehicle check; provides online data, auditing and reporting for transport teams as well as a full audit history, making it easier for fleet operators to demonstrate compliance.